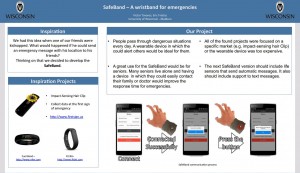 Describe what your project does and how it works
The Safeband is a wristband designed for emergencies. Once connected through Bluetooth the Safeband app can run on the background of your smartphone. In case of an emergency you just need to push the discreet button of the wristband and an email with your name and location are going to be sent to your previously selected contacts.
What are your overall feelings on your project? Are you pleased, disappointed, etc.?
We are very pleased with the project. Although the life sensor feature could not be implemented in time due to hardware, time and knowledge limitations we managed to learn a lot when working with the Arduino and its Bluetooth. We enjoyed the project to a point that we are going to try to evolve the idea a little more when we are back to Brazil.
How well did your project meet your original project description and goals?
The very first goal of the project was accomplished. We left all classes with a feeling that we had learnt what we needed for that day to continue to press forward with the project. We were worried at the beginning that the life sensor was changed for an accelerometer and later canceled, but these features were addons in the first place so our project did meet the original project description.
What were the largest hurdles you encountered? How did you overcome these challenges?
The lack of knowledge for sewing and electronics impacted our progress in the beginning, but we teamed up with Vinicius Furlan and Jhonatt Lima and we managed to learn the basics in electronics. The Firebase also helped a lot in the app development, but we lost some time trying to understand the inner workings of installing and running plugins and they were necessary for the Bluetooth connection. Luckily Victor found some results after some hours of struggle.
If you had more time, what would you do next?
Certainly we would improve the Bluetooth connection and add text message support. Seeing how the Internet is as not reliable as SMS we would be better off with a product that supports this kind of communication. Also, in Brazil is much more common to not have an Internet data plan and sending emails would be much more restricted than in the US. The life sensors that we could not add with the time we had available would be a nice feature to have as well.