1. Image or video: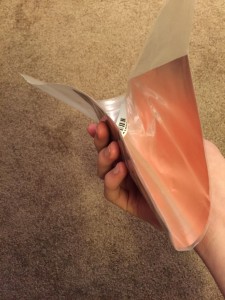 Boom. That's the substrate I'll be using as the backbone of the circuit. It's in a ziploc, so you can't tell the thickness, but you'll just have to trust me when I say it's super thin. It's also incredibly flexible, to the point I had to be careful when handling it to not crease it. So I'm pretty sure it'll do a good job of conforming to the brim.
2. Listing of accomplishments:
It's been a slow couple of weeks. Finished designing the circuit, but a few specialty parts haven't come in yet. I ended up getting a chance to mess around with all kinds of sewing machines, and I took a look at a few hat-making patterns, so I feel I have a better understanding of how a ball-cap comes together.
3. Description of problems:
One issue might be surface-mounting components on a surface that will be very flexible – will this stress the traces too much? I'm not sure. I don't think it will be an issue, as the solder joints should be pretty durable when done correctly.
4. Plan for next week:
Start assembly! Well, the software side of assembly. Since I still need a few specialty components, one of which is the solder paste, I can't quite put the brim together. But I can focus on the interaction of the components and at least get some code framework put up.